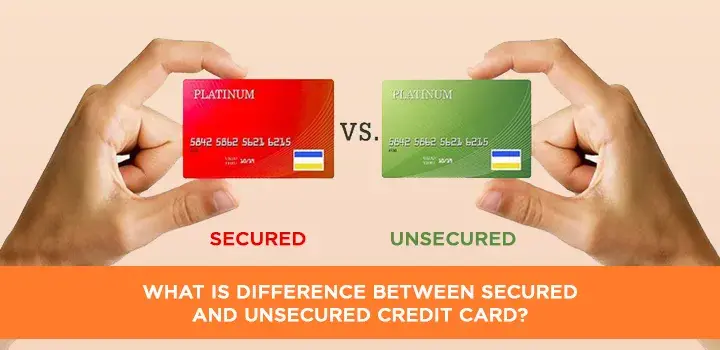 It might be difficult to discern between secured and unsecured credit cards with just a glance. Both types operate in similar ways, however, there is one defining factor that sets them apart; the need for an upfront cash deposit from account holders when using a secured card. This payment acts as protection for the issuer, making it quite different from its non-secure counterpart.
What Is a Secured Credit Card?
A Secured Credit Card is a type of credit card that requires the user to put down a security deposit when they open the account. This security deposit acts as collateral against any unpaid debt and helps to protect the lender from potential losses. The amount of the security deposit is usually equal to or greater than the amount of credit extended, and it serves as a guarantee that all payments will be made on time. With this type of card, users can build their credit score while still having access to a line of credit.
How secured Credit cards work?
Secured credit cards are a great way to build or rebuild your credit. They work by having you put down a security deposit that is equal to the amount of your credit limit. This deposit serves as collateral for the issuer and helps them manage the risk associated with giving you a line of credit. Your payment history is then reported to the major consumer credit bureaus, so it can help you build or rebuild your credit score over time. With a secured card, you can enjoy all the benefits of using a regular card, such as convenience and rewards, but without taking on too much risk.
What is an unsecured credit card?
An unsecured credit card is a type of credit card that does not require collateral or a deposit to be issued. This type of card can be used to make purchases and pay bills, just like any other credit card. However, the difference is that an unsecured credit card does not offer the same level of protection as a secured one. Unsecured cards are typically more expensive than secured cards because lenders are taking on more risk by offering them without collateral. The upside is that users may have access to higher spending limits and better rewards programs than with a secured card.
How do unsecured credit cards work?
Unsecured credit cards are a great way to build credit and establish a healthy financial history. Unlike secured cards, unsecured credit cards don't require an upfront deposit and are based on your creditworthiness. With an unsecured card, you can access funds up to the card's limit without any collateral or security deposit.
Unsecured cards come with a variety of benefits and features, such as cashback rewards, low-interest rates, and no annual fees. It is important to understand how these types of cards work before applying for one so that you can make the most of them and manage your finances responsibly.
Secured vs. Unsecured Credit Cards: Key Differences
| | | | | |
| --- | --- | --- | --- | --- |
| Category | Fully Secured | Partially Secured | Unsecured for Bad Credit | Other Unsecured |
| Min. Credit Required | Bad | Bad | Bad | Limited |
| Min. Deposit | $200 | $49 | $0 | $0 |
| Application Fee | $0 | $0 | Up to $95 | $0 |
| Min. Credit Limit | $200 | $200 | $300 | $300 |
| Builds Credit? | Yes | Yes | Yes | Yes |
| Are rewards Available? | Rarely | No | Rarely | Yes |
| 0% APR Available? | Rarely | No | No | Yes |
Secured credit cards vs. unsecured credit cards
When it comes to applying for a credit card, consumers can choose between secured and unsecured cards. Both types of cards offer advantages and disadvantages, so it's important to understand the difference between them before making a decision. Secured credit cards require a security deposit while unsecured credit cards do not; however, unsecured credit cards often come with higher interest rates and fees. you can choose best credit card as per your needs.

How to Choose Between a Secured and Unsecured Card?
If you're a newcomer to the world of credit cards or have had some past issues, don't worry - there are still options available as far as borrowing money goes. Secured cards and unsecured credit cards could be within reach depending on your qualifications. Think carefully when selecting between them; key things like interest rates should not go overlooked!
The security deposit: If you're short on funds, a secured card may not be the best solution as it typically requires an upfront security deposit. A more suitable option could provide better financial flexibility and peace of mind.


Fees: Credit cards come with a host of expenses that can add up if you're not careful. Annual and monthly fees are musts, but other charges to look out for include costs associated with foreign purchases, ATM withdrawals, late payments or even replacing the card itself!


Rewards: If you're looking for flexibility and rewards without needing exemplary credit, consider signing up for one of the many cards that don't require a perfect score. With these options, even everyday purchases can add up to major savings or exciting rewards!
The Bottom Line
Secured and unsecured credit cards are both powerful tools to have in your financial arsenal. Depending on the features you prioritize, one may be more suitable for meeting your needs than the other. Consider all of the advantages these choices present when deciding which card is right for you!
For those looking to build or restore their credit history, a secured credit card is an ideal option. While it requires an initial payment as collateral and may not offer abundant rewards, this path can lead to a more secure financial future.
With an unsecured credit card, you can reap rewards and build your financial future. As long as your account is in good standing with on-time payments, it's possible to upgrade from a secured version - even if you don't have the best credit scores initially. Advertising for these cards may be all around us, but now we know what they are!
Call on (888) 803-7889 & Know more about secured and unsecured credit card
Resources:
Does breaking a lease affect your credit?