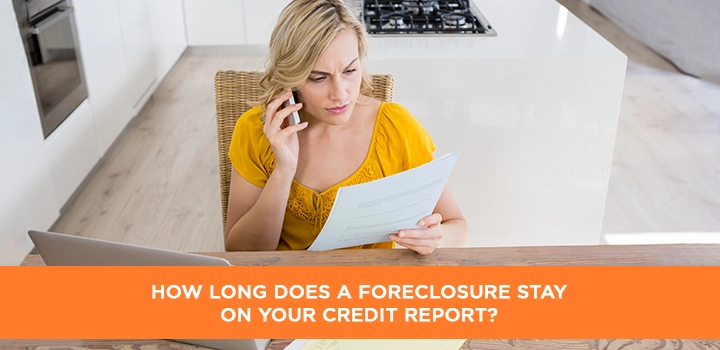 If you've been through a foreclosure, you know just how devastating it can be to your finances. The impacts go far beyond just losing your home. Not only does a foreclosure leave a significant dent in your credit score, but it also stays on your credit report for seven years. But how exactly does a foreclosure affect your credit? And what can you do to bounce back? In this, we'll explore the answers to those questions and more, providing you with the information you need to recover from foreclosure and restore your financial health.
What is foreclosure and how does it affect your credit?
Foreclosure is when a homeowner fails to make mortgage payments and their lender takes possession of the property to recover some of the loan amount. This event has significant negative effects on the homeowner's credit history as it lowers their credit score considerably and limits their ability to qualify for new loans or credit for several years.
A foreclosure entry typically appears on a credit report within a month or two after the lender initiates foreclosure proceedings. It remains on the credit report for seven years from the date of the first missed payment that led to the foreclosure. The impact of foreclosures on credit scores depends on several factors, such as the borrower's credit score before foreclosure and the number of negative entries on their credit report.
The number of points by which the score drops also depends on the length of delinquency, with missed payments bringing down credit scores more than any other negative entries. Foreclosures usually occur after the borrower misses at least four successive monthly payments (120 days of delinquency).
Lenders view foreclosures as one of the most significant derogatory events in credit history, second only to bankruptcy in terms of severity, and this affects how they treat applicants with foreclosures on their credit reports. Some lenders may disregard foreclosures that are several years old if the applicant meets the rest of their lending criteria, while others may not consider applicants with foreclosures on their credit reports at all. It typically takes three or more years of on-time payments to restore the credit score after foreclosure. Recovering from foreclosure is possible, but it takes time and effort.
How long does a foreclosure stay on your credit report?
Foreclosure can have a considerable impact on your credit report, staying on it for up to seven years. This occurs when a homeowner misses several months of payments, leading the lender to repossess and sell the home to cover the debts still owed. This legal process begins after the borrower has missed four months of mortgage payments, and the foreclosure stays on the credit report for seven years from the date of the first missed payment that led to the action. Foreclosure can drag down your credit scores the entire time it's present, and every missed payment is recorded on your credit report.
A late payment appears on the report when it's at least 30 days overdue, and subsequent late payments also appear, staying on the report for seven years. Lenders may not approve an application from someone whose credit report has a foreclosure on it, and even after the credit score rebounds, it could hurt your ability to get a new mortgage.
Can you remove a foreclosure from your credit report?
It is possible to remove an inaccurate foreclosure from your credit report, but it requires time and patience. In order to dispute a foreclosure on your credit report, you need to have the right evidence to show that it does not belong on your report. For instance, if the foreclosure is over seven years old, the lender is no longer in business, or there is a lack of available records, it may be possible to have it removed. However, if the foreclosure is legitimate and accurately reported, it cannot be removed until it has completed the entire seven-year credit reporting lifecycle.
To increase your chances of having an inaccurate foreclosure removed from your credit report, it is essential to check your credit reports regularly. You can obtain a free copy of each report from Equifax, Experian, and TransUnion each year. After reviewing your credit reports, you need to identify any errors and then write a dispute letter to your creditor. Follow up with both the creditors and bureaus until the issue is fully resolved.
When it comes to rebuilding your credit reports and credit scores after facing foreclosure, time is your greatest ally. Late payments and foreclosures have a gradually decreasing impact on your credit scores as you age. In addition to waiting, check your credit reports and scores regularly to identify any areas that may be dragging down your scores and avoid any further negative credit reporting. Pay down or pay off credit card debt, which can negatively impact your credit utilization ratio. Consider utilizing services such as Experian's Boost to add utility and cellular accounts to your credit report and potentially improve your credit score.
How to improve your credit after foreclosure?
A foreclosure can cause significant damage to one's credit score, but it is possible to restore it. To begin, one must monitor their credit reports and scores regularly. Additionally, they should ascertain what led to their foreclosure and try to correct it to avoid another loan default. Timely payments on bills, including credit cards and utilities, can prevent further damage. Creating a budget and sticking to it is crucial to avoid overspending and getting into a debt cycle. A secured credit card can be obtained for those who are unable to get a traditional credit card due to foreclosure. They should also keep an eye on their credit utilization ratio, which measures their total credit card debt against their limit. Seeking the help of a credit counselor can provide valuable insight and assistance in reducing debt and negotiating with creditors. It is essential to check your credit scores and reports regularly to monitor progress and address any issues. Patience and diligence are key to achieving an improved credit score after a foreclosure.
What to do if you're facing foreclosure?
When facing the possibility of foreclosure, it is important to take action as soon as possible. Ignoring letters from your lender will only make things worse. The further behind you become in mortgage payments, the harder it will be to reinstate your loan and the more likely you are to lose your home.
The first step you should take is to contact your lender as soon as you realize you have a problem. Lenders have options to help borrowers through difficult financial times and do not want to take your house from you. In addition, open and respond to all mail from your lender, as the first notices may offer useful information about foreclosure prevention options.
It is also critical to educate yourself on foreclosure laws and timeframes in your state. This can be accomplished by reaching out to the State Government Housing Office to obtain valuable information about foreclosure prevention.
Cutting unnecessary expenses and generating extra income can also help you save your home. You can review your finances and see where you can cut spending to make your mortgage payment. You can also consider selling assets, such as a second car, jewelry, or a life insurance policy, to help reinstate your loan.
Asking for help from a HUD-approved housing counselor is also an option. Housing counselors can help you understand the law and your options, organize your finances, and represent you in negotiations with your lender if needed. Importantly, you do not need to pay a fee for foreclosure prevention help as this assistance can be found through free or low-cost HUD-approved counseling.
To help homeowners specifically impacted by COVID-19, assistance with mortgage payments, property taxes, and other housing costs is available. By contacting a HUD-approved housing counseling agency, free expert guidance on avoiding foreclosure is available. Remember, taking action and seeking help is the most important thing you can do when facing foreclosure.
Conclusion
A foreclosure is a legal process in which a homeowner's property is seized by the lender due to the homeowner's inability to make mortgage payments. This event can have a significant impact on the homeowner's credit report, reducing their credit score and making it difficult to obtain a loan or credit in the future.
A foreclosure remains on a credit report for up to seven years from the time of the first missed payment that led to the foreclosure. The length of time will vary depending on the credit agency and region. A foreclosure is considered a significant derogatory event and can affect the credit score by 200-300 points, making it harder to get approved for new loans, credit, or even employment.
To rebuild credit after a foreclosure, one can take various steps such as paying bills on time, getting secured credit cards, or other credit-building forms of loans such as a store card, car loan, or personal loan. These actions demonstrate responsibility and can help to gradually improve the credit score over time.
In summary, foreclosure can have severe consequences on an individual's credit report, and that affects their financial status for several years. However, with patience and consistent effort, one can recover from it and rebuild their credit score for a better financial future.
Call on (888) 803-7889 to free credit repair consultation now!
Resource
5 Awesome Benefits For Having A Clean Credit Report
Money Saving Tips for Your Summer Vacation
Pros & Cons of Investing in Real Estate