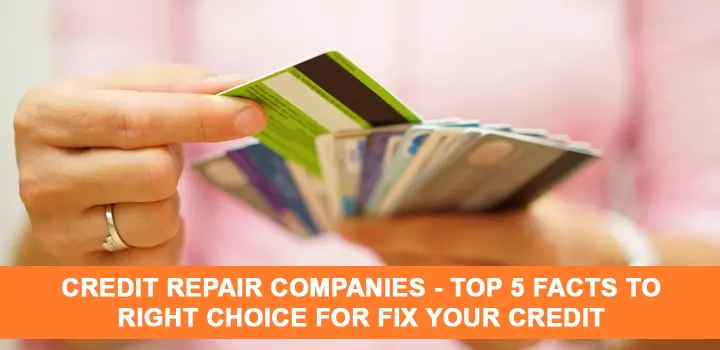 Credit repair companies are an important part of the financial industry. They help to fix credit scores by providing services that range from debt settlement to bankruptcy.
But with so many options out there, it can be difficult to find the right company. To help you make a decision, we created this list of 5 things you should know about credit repair companies:
- The first thing you should know is that some credit repair companies will work for free and others will charge a fee upfront and then charge monthly fees as well.
- The second thing is that not all credit repair companies are reputable or trustworthy. You should always do your research before signing up with any company because it could cost you more than expected in the long run.
CREDIT FACT #1: We don't make you wait a year for credit repair.
What good is a guarantee if it takes an entire year of paying fees before you can get a refund? We don't even think you should have to wait a year to expect results. Unfortunately, some of the big "credit repair mills" who advertise everywhere won't get guarantee their work until AFTER you have been a paying client for 1 year.
Credit repair can be a long and difficult process. We'd be lying to you if we said you could expect to see results overnight, but in our professional opinion, credit repair should not take a year. Our guarantee goes into effect within 6 months, and if you want to cancel at any time, you can.
CREDIT FACT #2: Get certified Mail, (and other premium services).
Most credit repair companies don't even offer certified mail, and if they do, they're usually charging an extra fee for it. Why pay high prices for high-quality service? Get certified mail, human telephone support (we won't force you to email us if you have a question), a personalized credit strategy based on the details of your credit report, and the guide "Credit Confidential: What the credit industry won't tell you" Guide.
CREDIT FACT #3: We'll talk to you on the phone even after you become a client.
We think that it's misleading to offer telephone numbers to sign up, and then never allow you to talk to another human being after you become a client. If they can take your credit card number over the phone, why can't they take your questions? Unfortunately, many "credit repair mills" use telemarketers to sell you on their credit repair services, then pass you off to an automated computer system AFTER you sign-up. Aren't we all sick of pressing buttons on a keypad to get the help we need? When you call Credit Repair Results, you'll be talking to us, not a third-party salesperson. That means you will get expert answers to your questions, and you won't have to worry about giving your sensitive financial information to a third party.
CREDIT FACT #4: Your credit score is a number. You are not.
And we promise never to treat you that way. You will never see a "Now being served" sign on our site with the number of credit deletions we have performed. We don't serve up customers like a cheeseburger counter. Personal attention to your individual case is what makes us more successful at deleting negative items. We do believe in helping people the best way we know how: one credit report at a time, with a personalized credit strategy, education, and well-composed dispute letters.
CREDIT FACT #5: We'll give you real credit repair.
We're not one of the "credit repair mills." We give you personalized service because it gets the best results. No form letters. No computer client handling system. No email-only support. Don't get us wrong, if you prefer to be contacted solely via email (and we'll ask you to if that's your preference), then that's exactly what you'll get. And you probably won't need to call, but wouldn't you feel better knowing you can talk to a real person if you have a problem?
Worry about bad credit score? Now, Say 'NO' to poor credit score. Credit Repair Ease makes it easy for household owners and business owners to fix bad credit scores with our smart & unique credit repair process. Our credit repair specialist improves your credit score by fixing negative items & challenge those items with bureaus.
Let Us Help You Fix Your Bad Credit!: (888) 803-7889