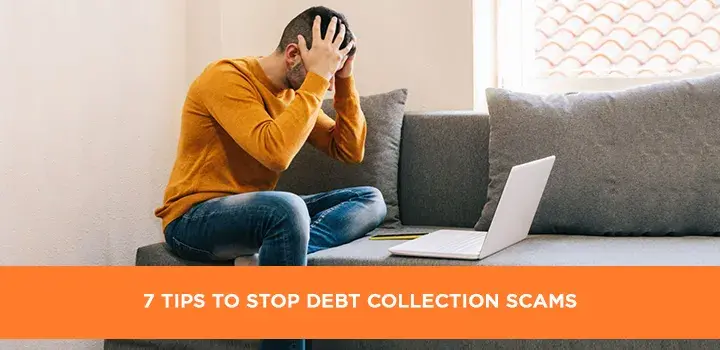 If you're behind on your bills, you may start to receive calls from debt collectors. However, not all debt collectors are legitimate - some may be scammers trying to steal your money. Here are 7 tips to help you protect yourself from debt collection scams.
Top 7 tips to stop debt collection scams
1. Ask for a written debt validation letter
Debt collectors are notorious for using harassing and threatening phone calls to try and get people to pay their debts. However, there is a legal way to deal with these calls, and that is by asking the collector for a written debt validation letter. This letter will confirm that the debt is actually owed, and it will also list the specific details of the debt. If you receive such a letter from a collector, be sure to review it carefully to make sure all the information is correct. If there are any errors, you can dispute the debt.
2. Avoid providing personal or financial information
If you've ever received a call from someone who claims to be from a debt collection agency, asking for money that you don't owe, then you've been the victim of a scam. These scams are becoming more and more common, as con artists try to take advantage of people who are already struggling financially. But don't worry - there are ways to protect yourself from these scammers. Just be aware of what to look for, and never give out any personal or financial information without verifying that the caller is legitimate. If you think you may have been scammed, contact your local authorities right away.
3. Get additional details from the collector
Did you know that debt collectors can contact you via email, text, or even social media? In most cases, they are within their legal rights to do so. However, if you're being harassed by a debt collector or believe that the collection attempt is fraudulent, it's important to get more information. The best way to do this is to ask the collector for specific details about the debt. This includes the name of the creditor, the account number, and when and how the debt was incurred. If the collector cannot provide this information or refuses to answer your questions, it may be time to speak with an attorney.
4. Watch out for threatening behavior
If you've ever been behind on your payments, you know the anxiety and fear that comes with debt collectors calling. Sometimes, though, collectors cross the line, using threatening or abusive language in an attempt to get you to pay up. This type of behavior is illegal under the Fair Debt Collection Practices Act, so it's important to be aware of your rights and what to do if you're targeted. Knowing what to expect can help ease your mind and protect you from becoming a victim of fraud.
5. Block or ignore repeated calls
It can be annoying enough when someone calls you repeatedly on your cell phone, but it can be downright frightening if the person on the other end is behaving threateningly. If you find yourself in this situation, don't hesitate to block the person's number or even report them to the police. Doing so could help protect you from any possible harm.
6. Know all of your rights
When you're out in public, do you feel safe? Many people don't realize that they have the right to feel safe when they're out in public. Unfortunately, there are some people who threaten others and make them feel unsafe. If you experience threatening behavior, it's important to know what to do.
7. Keep an eye on your credit reports
It's never a good idea to ignore your credit reports. You should be monitoring them regularly to make sure there are no errors, and also to look for any signs of fraud or identity theft. However, it's especially important to be vigilant right now, because identity thieves may be trying to take advantage of the current situation. Be on the lookout for threatening behavior, like calls or emails from debt collectors you don't recognize or accounts that you didn't open. If you see anything suspicious, report it immediately. Don't wait - the sooner you catch these criminals, the less damage they can do. Keep an eye on your credit reports and stay safe!
Hire a credit repair company to avoid debt collection scams
Did you know that there are debt collection scams that could potentially impact your credit score and financial stability? Unfortunately, many people do not realize this until it is too late. Thankfully, there are ways to protect yourself from these scams. One way is to hire a reputable credit repair company like credit repair ease. credit repair ease can help you dispute inaccurate information on your credit report and work with creditors to get the negative information removed. This can help improve your credit score and protect you from future debt collection scams.
Call on (888) 803-7889 & avoid debt collection scams.