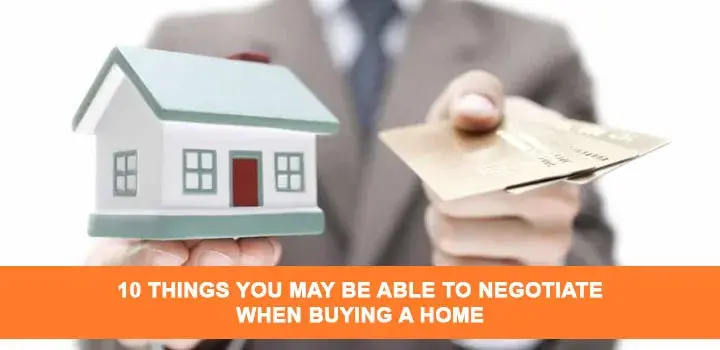 When it comes to buying a home, you need every advantage you can get. That's why honing your negotiating skills is so important. The ability to haggle is crucial to getting the right price, but the right price is just one of many things that are negotiable when you're buying a house. Here's what else you can work into the deal for when you If you're buying a home, don't be afraid to ask for a better deal. Here are ten things you may be able to negotiate when buying a home.
Top 10 Things You May Be Able to Negotiate When Buying A Home
1. Choose a Real Estate Agent and Mortgage Professional You Can Trust
Unfortunately, there's no negotiating on this point. Start the home buying process on the right foot, and find an agent you can trust. Credentials, community awards, and experience are important but definitely not the only factors to consider. Find someone who offers the best of both worlds-- a professional whose judgment you can count on and who you feel comfortable discussing fairly personal requirements. The home buying process is still very much a people business, and having the right professional in your corner will help ease future negotiations.
2. Face Your First Negotiation Obstacle - The Commission
Now that you've found the perfect negotiation professional, it's time to turn the table and discuss commissions. A common question asked during the home-buying process is, "who really pays the commission?" In short, the buyer always pays. How so? Because commissions are typically a percentage of sale prices, the seller essentially includes these commissions in the final sale. If there were no commissions to be paid, the seller would have likely lowered the sale price. In fact, in "For Sale By Owner," buyers generally expect the seller to lower the price, knowing that a commission isn't part of the equation.
3. Commission Negotiations Part 2: The Costs of a Home Loan
Additionally, don't forget about the commissions being paid for the loan origination. Ask your agent how much you are being charged. Will this be financed out of your pocket, or will you be given an interest rate above wholesale to cover a yield spread premium (YSP)? In most cases, asking the agent for disclosure should help clear the air on how much you are really paying. Good Faith Estimates (GFEs) and Truth-in-Lending (TIL) disclosures can help make comparison shopping easier.
4. Inspect and Question the Good Faith Estimate and Truth-in-Lending Forms
A mortgage lender is required to provide their Good Faith Estimate (GFE) within 3 days of receiving your application. Although the GFE is just an estimate, you'll want it to be as accurate as possible to avoid any surprises at closing. With this GFE in hand, you'll find a list of estimated fees for the transaction-- lender charges, third-party fees, and cash needed at closing. The TIL shows your interest rate and APR (annual percentage rate), which makes it easier to compare loans. The TIL also indicates if there is a prepayment penalty associated with the loan. Your lender will only be able to give you a reasonably accurate estimate if you disclose your credit (good, bad, or ugly), how much you have to put down, and the type of property you are buying.
5. Negotiable Closing Costs and Third Party Fees
Whether you have excellent or bad credit, third-party fees could be a substantial chunk of your closing costs (especially if you are buying in a HUD-designated "high-cost closing state"). Title and escrow fees vary from state to state, but they are still negotiable to a certain extent. The buyer usually does have the right to choose the title company in the transaction, although many don't bother. Additionally, other fees such as appraisal and inspection fees may not be set in stone--although they will have fewer margins to negotiate. In the end, compare your final third party and closing costs fees with the original GFE. While they may slightly differ, they should not be significantly different.
6. Consider an FHA Home Loan
If you have trouble finding financing for the purchase of your home, or the risk-based surcharges on a conventional loan are higher than you like, ask your loan agent if you can qualify for an FHA home loan. Due to recent increases in conforming loan limits, FHA loans have become a great alternative for borrowers with credit issues buying modestly-priced homes. Buyers with previous bankruptcies or foreclosures will also find it easier to obtain a mortgage so long as they've had a clean history for about three years. FHA home loan interest rates are quite competitive and their fees are quite minimal. Although FHA financing is available to almost everyone, it is typically used by first-time home buyers and moderate-income borrowers.
7. Entice the Seller: Come Financed and Ready to Buy
Before you start thinking about negotiating the listed price, do your part to come prepared. Instead of just getting pre-qualified, get pre-approved by a mortgage lender. Have your agent help you to get pre-approved for a home loan based on your credit, income, and the loan-to-value ratio. Buyers with a pre-approval letter will move to the front of the line in negotiations and be in stronger positions. Sellers see an approval letter as a commitment to buy and will be more open to possible dealing.
8. Negotiate the Price of the Home with the Right Information
Here's where having the right professional by your side will pay off greatly. Ask your agent to do his or her homework and find out why the seller is selling. Is the owner in the middle of a job transfer or maybe even a divorce? How long has the home been listed, how many times, and how's the neighborhood doing? Did they already buy a home? All this information will help tune you into the sellers' state of mind, and find out how willing they are to budge during negotiations.
9. Don't Just Focus on the Sale, Negotiate Your Way to Other Benefits
Although the sale price will likely be the focus of negotiations, don't look past other benefits such as seller concessions towards improvements, repairs, and closing costs. Buying a home is much more than signing for a mortgage and coming up with a down payment--with a few seller incentives, you can easily offset the costs of major repairs and upgrades. Additionally, other common seller incentives can include mortgage buy-downs to help lower your monthly payments for the first few years.
10. Forget Lowball Offers. Present Strong Offers, but Leave Room for Negotiation.
Obviously, you want to get the best deal. Unfortunately, so does the seller. Lowball offers create mistrust from the very beginning and do little towards serious negotiations. A strong offer is a serious one with a considerable earnest money deposit and room for further negotiations. Don't complicate your initial offer with a list full of contingencies either. During negotiations, if the seller persists on a higher price, ask for something in return; maybe they can take care of the bathroom repairs, or throw in a few kitchen appliances and household furniture items.
Most importantly, always keep in mind that counter offers are still on the table for negotiation. Even if it's a stingy full-price counteroffer, don't hesitate to respond with another offer--after all, you have nothing to lose.
11. Bonus Negotiation Tip: Don't Burn Your Bridges
Remember, this industry is still a people's business. Don't bad mouth the seller, the seller's agent, and especially your own agent. This does little to help negotiations, and only creates mistrust between parties. The bottom line is don't let your emotions ruin a negotiating opportunity.
Hire credit repair company for the best deals on buying home

Are you looking for the best deals on buying a home? If so, then hiring a credit repair company is the way to go. Credit repair companies specialize in helping people improve their credit scores and get the best deals on mortgages. They can help you understand your credit report, dispute inaccuracies, and negotiate with lenders to get you the lowest interest rates possible. With their expertise and knowledge of the industry, they can help you save money when buying a home.
Just Call Us To Start Now! (888) 803-7889